Medical Device Amendments
From Rx-wiki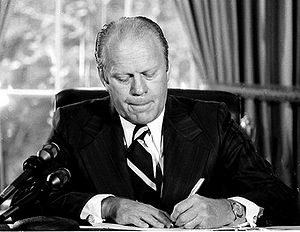 The Medical Device Amendments of 1976 were signed by President Gerald R. Ford on May 28, 1976. This is an amendment to the Food, Drug, and Cosmetic Act of 1938.
While the Cooper Committee recommendations were being debated in Congress during 1972 and 1973, pacemaker failures were reported. And in 1975, hearings took place on problems that had been reported with the Dalkon Shield intrauterine device, which caused thousands of reported injuries. Those two incidents helped underscore the need for the Medical Device Amendments, enacted in 1976.
President Ford, in signing the law, said, "The Medical Device Amendments of 1976 eliminate the deficiencies that accorded FDA 'horse and buggy' authority to deal with 'laser age' problems." He added, "I welcome this legislation and commend the FDA, who identified the need, cooperated in its development, and finally, will be entrusted with its enforcement."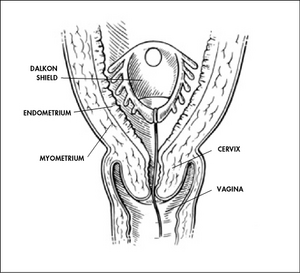 The 1976 amendments defined devices similarly to drugs, but noted that drugs cause a chemical reaction in the body, whereas devices do not. They called for all devices to be divided into classes, with varying amounts of control required in each one.
Tongue depressors, for example, would fall under general controls of the types already existing (Class I); wheelchairs would be subjected to performance standards when general controls were deemed insufficient to assure product safety and effectiveness (Class II); while artificial hearts would be required to go through pre-market approval (Class III). The agency's first device performance standard was developed for impact-resistant lenses in eyeglasses and sunglasses.
The final provisions of the 1976 amendments closely resemble the Cooper Committee recommendations. In addition to the medical device inventory and classification requirements, Class III device manufacturers were required to notify the FDA prior to marketing. New devices that were substantially equivalent to pre-1976 devices could be marketed immediately, subject to any existing or future requirements for that type of device.
Good Manufacturing Practice (GMP) regulations also were authorized at that time. These are a set of procedures to ensure that devices are manufactured to be safe and effective through quality design, manufacture, labeling, testing, storage, and distribution.
See also
Federal pharmacy law
Food and Drug Administration
References
Pharmacy Times, A Review of Federal Legislation Affecting Pharmacy Practice, Virgil Van Dusen , RPh, JD and Alan R. Spies , RPh, MBA, JD, PhD, https://secure.pharmacytimes.com/lessons/200612-01.asp
Strauss's Federal Drug Laws and Examination Review, Fifth Edition (revised), Steven Strauss, CRC Press, 2000
Food and Drug Administration, Legislation, http://www.fda.gov/RegulatoryInformation/Legislation/default.htm
Food and Drug Administration, History, http://www.fda.gov/AboutFDA/WhatWeDo/History/default.htm
The American Presidency Project, Gerald Ford: Statement on Signing the Medical Device Amendments of 1976, http://www.presidency.ucsb.edu/ws/index.php?pid=6069#axzz1JK6NwPDT